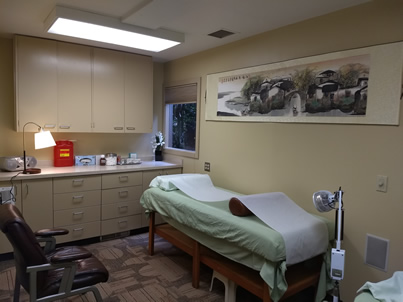 Dr. Su Patient Testimonials:
Eczema, other skin problems
Eczema was an unpleasant and seemingly incurable part of my life for more than 30 years before it finally become debilitating. I was very irritable, wearing clothes became painful, and I couldn't even lift up my arms without causing cracking and bleeding. Before meeting Dr. Su, all of the doctors I had seen generally only offer steroids to treat the eczema symptoms, Dr. Su helped identify and treat the cause of the eczema. With Dr. Su's help, I've been Eczema-free for the first time in my life (three years and running) .
-- Brian P., from Seattle, WA
Over the past 12 years I have been dealing with chronic and often severe skin ailments of several different kinds over six areas of my body. I sought out allopathic medicine to no avail, as well as many modalities of natural and herbal therapies, and acupuncture with no lasting results. After just three treatments of acupuncture and Chinese herbs with Dr. Su, my skin conditions improved dramatically. Now after four months under his care, my skin has returned to normal, there has been no recurrence of symptoms, and I am again able to perform my regular daily activities. Prior to his treatment, I thought I would never find relief. Thank you, Dr. Su, for sharing your knowledge and experience in helping me with my skin issues. I am most grateful.
-- Lynn B., from Seattle, WA.
I came to see Dr. Su for a very severe itchy skin rash that I had for almost a year. I tried other treatment before finding Dr. Su. I couldn't sleep; my skin hurt and itched so much. The acupuncture treatments cleared up my skin, which is no longer red and raw from scratching. It took a few months, my skin improving the whole time. Now my skin is looking good and feeling good. Dr. Su is the most gentle acupuncturist I have experienced. He also educated me about the dietary causes of my rash and taught me how to keep my system in better health. I had some other body work this year and the practitioner commented that my body seemed clean from inside out. The acupuncture and herbs worked! I love acupuncture! Thank you, Dr. Su.
-- Susan C.T. from Camano Island, WA.
In spring of 1996 I met Dr. Yiwen Su for a first visit in his clinic in Ramat-Aviv, Tel-Aiv, Israel. The reason for visiting him was my skin conditions. I have been suffering from psoriasis for over 20 years. Before I visited Dr. Su, I had been seeking help in every major hospital in Israel and was treated by leading Israeli Dermatologists. Yet they could offer very little to my condition, as the etiology of this disease is still unclear. In the spring of 1996 my skin condition was seriously aggravated. I could hardly sleep or work. Fortunately, Dr. Su was visiting Israel at that time. Through a friend I heard that Dr. Su had much success in treatment of skin diseases with Chinese Herbs. In less than two weeks miracle happened. My extremely red, scaly and itching skin that covered most of my trunk got immensely better and continued to improve. After a few more weeks' of a milder Chinese herbal treatment also prescribed by Dr. Su, my decades-old skin disease was almost gone! I was totally amazed! Dr. Su's vast knowledge both in Western medicine and Chinese Medicine seems to have contributed greatly to his special healing skills.
-- Haim B.S. from Israel.
Asthma, Sinusitis
I have had intermittent asthma, sinusitis and eczema over the last 3 years, most recently I experienced severe asthma, sinusitis, eczema which was not responsive to steroids or antibiotics. I have now been coming to Dr. Su for acupuncture for 6 weeks; asthma is improved, eczema is improved as well as the sinusitis. I am so glad to be feeling better!
-- Pat L., from Seattle, WA.
Circulation problems
High praise for the Su & Jin Acupuncture & Herb Clinic-the combination of Herbs & Acupuncture has helped my chronic circulatory problems for over two years. I keep coming back because it works!
-- Peter S. from South Seattle, WA.
Migraines
After having severe migraines for the last 3 years, my wife suggested me to try Acupuncture, with the help of Dr. Su , I've not had a migraine for over a month now. Thank you Dr. Su for everything that you have done for me & my wife.
-- Craig C., from Seattle, WA.
Quality of Life
Thank you so much for helping me to heal and become more physically balanced! I appreciate it so much. The quality of my life has been worlds better lately!
-- Erica K. from New York, NY.
Pain relief
I experienced impressive results with a significant decrease in pain from post-herpetic neuropathy. The acupuncture treatments were effective in reducing pain where previous medicine was unhelpful. In addition, I was very pleased with the professionalism and the atmosphere of the clinic.
--Scott E. Ph.D., from Seattle.
I have had a 10 year history of hip and joint pain. Traditional arthritis medicines gave me limit to no relief. After several visits to Dr. Su, my hip & joint pain is all but gone. Acupuncture and Chinese herbal treatment has brought back my energy & movement!
-- Sandy F. from Seattle, WA.
Pediatrics
Dr. Su is amazing! No matter what problems my son encountered, Dr. Su always helped! Whether when my son had a cough or chronic food intolerance, he got it done in one visit!
-- David P. Ph.D., from Portland, OR.
Vertigo
I have suffered intermittently from vertigo associated with Meniere's syndrome for the last 20 years. When it returned this year, I decided to try Acupuncture and Traditional Oriental Medicine to treat it and went to the Su & Jin Family Clinic. For the first time since I was a teenager, I have found a treatment which controls the vertigo and ringing in the ears associated with Menier's. The treatment I have received from the Su & Jin family Clinic has been superlative in every way. I have found all the staff at the clinic to be knowledgeable, gentle and professional in the course of my treatment there. In addition to helping my vertigo-my allergies and eczema have also greatly improved as a result of my treatment. Acupuncture and Oriental Medicine have provided me relief for a condition that has no conventional treatment beyond seasickness drugs. Finally I feel confident with treatment and lifestyle changes I can be rid of this debilitating condition. I have recommended the Su & Jin family Clinic to my friends and to anyone looking for excellent Traditional Oriental Medicine and Acupuncture.
-- India K.A.C., from Seattle, WA.
Cancer
I had used homeopathy, enzyme therapy and western herbs in my treatment for ductal breast carcinoma. After much time and money, the results were minimal. My treatment here has significantly reduced my breast cancer markers in a matter of weeks! The underlying weakness of internal organs is improving to prevent another occurrence. My body is stronger, my spirit is brighter. I feel blessed to be involved with these people and their knowledge.
-- Dr. Suzanne H. from Everett, WA.
Autoimmune Disorder
Five years ago, I was diagnosed as having a potentially fatal autoimmune skin disorder in which blisters form all over the body and ofen will not heal. My dermatologist prescribed a series of prednisone treatments. Prednisone is a steroids which is know to attack bones and organs of the body as well as a reduce disease. I refused the treatment and undertook herbal and acupuncture treatments with Dr. Su who was recommend to me as a superior practitioner of Ancient Chinese Medicine.
After five years of treatment, my dermatologist pronounced me apparently completely free of the disease. He declared that I am the only patient of his who recovered from this disease without the prednisone treatment.
I can recommend Dr. Su without reservation as a highly qualified and very careful practitioner of acupuncture and herbal medicine and I experienced no discomfort during the five years of treatment.
-- Nelson from Tacoma, WA
Adrenal Exhaustion
Dr. Su changed my life. With his expert knowledge of acupuncture and my commitment to his suggested lifestyle changes, I have been given a great gift. My adrenal exhaustion seems to have disappeared and I have a re-invigorated zest for life. My eternal thanks to the knowledgeable Dr. Su.
-- Elise from Seattle
Sleep Disorders
I've always been a skeptic regarding Eastern medicine in general and acupuncture in particular. After struggling with sleep disorders for a year and not wanting to use sleeping pills, my wife convinced me to give Dr. Su a try. WellĄ­I don't really get to know how it all works but I'm now sleeping 8 hours a night and waking up refreshed. I'm a believer now. Thanks Dr. Su!!
-- Joey from Seattle
I have been having problems with my sleep for 8 years. Prescription pills wouldn't work any more. I tried acupuncture with Dr. Su as my last options-The treatment worked from the very first session and I have been sleeping since then. I am very grateful to the doctor. He is nice and caring. Thank you!
-- Laura from Seattle
Chronic Joints Pain
I am extremely grateful for the presence of Drs. Su and Jin in the community of Ballard. I have found wonderful relief from the acupuncture treatments I have received for severe pain in my right hip and knee-after only a few weeks. I have chronic bilaterally lymphedema which has kept me from approaching the treatment in the past, but Dr. Su has carefully administered treatment and I am thrilled with the results.
-- Judith from Seattle
---
Dr. Jin Patient Testimonials:
Pregnancy Cares
I worked with Dr. Jin for about a year to assist me in my recovery from a series of first-semester miscarriages and long-standing hypertension. Dr. Jin treated me with herbs and acupuncture to complement the Western medical treatment I was receiving, and I am now 6 months pregnant. I have found Dr. Jin to be an empathetic and very capable physician, very knowledgeable in both Chinese and Western medicine. I am very grateful for the way in which she has enabled me to blend the best of Eastern and Western medicine in my health care.
-- Ambika, from Seattle, WA.
Labor Induction
During my pregnancy, Dr. Jin helped me improve my energy, appetite and overall health. But more importantly, after her last "induction" treatment, I gave birth to a very healthy eight and half pound boy in four hours without an epideral. Thanks, Dr. Jin!
-- Jill, from Seattle, WA.
Promote Lactation
It has been a wonderful experience working with Dr. Jin. I had all but lost my breast milk when my son was only 4 month old. I had tried everything possible to restore my milk without success. After just a week of acupuncture and herbs from Dr. Jin, my milk returned to a sustainable level and with ongoing treatments I have been able to continue breast feeding for several months.
-- Kimberlys, from Seattle, WA.
Depression, Migraines and more
After a local acupuncture student clinic closed I had the opportunity to continue treatment with one of the school's well regarded teachers, Dr. Jin. Under her and Dr. Su's care my depression, migraines and frequent strep throat have gone. Any flare ups of these lifelong ailments are immediately treated successfully using their varied acupuncture methods or herbs. I trust their judgment completely because I have experienced immediate relief under their care. A particular vivid example was the time I stumbled into their office, nauseated and bleary-eyed with an intense migraine. One hour later I left, pain free and smiling. At other times when my depression began to overwhelm me, Dr. Jin gave me treatments to restore my energy and sense of well being.I am so thankful to have these two wonderful practitioners in my life and take every opportunity to refer them to anyone who needs sensitive, expert care.
-- Laura, from Seattle, WA.
Back Pain
I have had increasing back pain for the last 10 years. Li Jin's treatments have cured me of this back pain so that I now enjoy gardening and golfing much more. Driving long distances in a car is also easier. Other treatments I have tried in the past have not been as successful.
-- Kathryn, from Seattle, WA