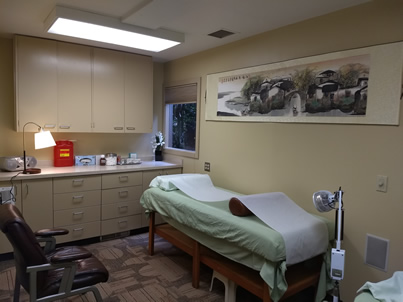 Patient testimonials for Dr. Su and Dr. Jin:
Allergies, physical Pain, digestive and more
For most of my adult life, I've been terrified of acupuncture. My medical provider kept trying to get me to agree to it and finally, I tried it this year. Life changing. The first time I went in, Dr. Jin worked to educate me about acupuncture and was sensitive about my hesitation. I appreciated the thorough consult and that she was also a M.D. in China. Scheduling an appointment has always been easy. I always get the day I ask for and a variety of options. Service is always friendly and efficient. Of all the times I've been there, they've only been late for my appointment once and often take me early. Insurance and payment options are a breeze! I often need receipts sent to me for my flex account and they're always great about providing those right away. I primarily see Dr. Jin but have also seen Dr. Su and Jackie who fills in sometimes. The experience has been consistently good and I feel great afterwards. I've seen them for physical pain, allergies, congestion, and digestive problems just to name a few. A year ago, I could have never imagined that I would be a regular user of acupuncture. My experience here has given me a new outlook on life and helped me with a variety of health issues.
-- Monica, from Seattle, WA.
Skin conditions, ADHD and allergies
I have seen Dr Su for a couple of years now. I struggled with a skin condition for a couple of years before seeing him and was referred to him as one of the best skin specialists in the nation. Within a couple of visits I had results that I could hardly believe! Two years later, these results have persisted (without continued treatment). I have had no re-occurrences. I've continued to see him for other issues and have continually had great results. I take my 6 year old son to see Dr Jin and have also had fantastic results for calming his energy and for his allergies. I have referred friends who have also had nothing but great experiences. Both doctors are very knowledgeable about herbs in combination with acupuncture. I highly recommend either doctors.
-- Linda, from Seattle, WA.
Foot and leg pain, fatigue, GI issues and more
I have been a patient of Dr. Jin and Dr. Su since 2007, when they were recommended by a physical therapist for some tendinitis problems in my foot and leg before my dream trip trekking in the Himalayas. With Dr. Jin's treatments and inexpensive herbal medication for support, my trip was pain free and beyond my expectations. I regularly see Dr. Jin and occasionally Dr. Su for a variety of issues such as various pains, fatigue and anemia, gastro-intestinal issues, etc. I see my visits there as preventive medicine as well as support to western medicine treatments. Drs. Su and Jin are exceptionally conscientious, clean, friendly, and knowledgeable. Occasionally Dr. Jin has recommended herbal supplements to support the acupuncture treatments, but they are always pretty inexpensive. I swear by an herbal patch they offer for my tendinitis that has helped keep me active through sports and overuse injuries over the years. I have seen other acupuncturists over the years off and on and feel I've landed at the best place with Su & Jin Family Practice. I recommend them highly.
-- Jill, from Seattle, WA.
Dr. Su Patient Testimonials:
Chronic cough
I have had a cough for 30 years that was determined to be nerve caused. Traditional medicine has not managed to eliminate or even reduce the cough. Since i have been receiving acupuncture in the last month, I have actually been feeling much better. I have been able to achieve more than one full night's sleep without coughing which has not happened for me in 30 years. I plan to continue treatments and look forward to making more progress.
-- JA, from Seattle, WA.
Chronic Eczema
Dr. Su is brilliant, best skin expert ever. For years I've had terrible heat eczema in the summer, made worse by heat and smoke, and am truly miserable for 3 months of the year. I've looked for help for years. In three weeks, with acupuncture, convenient herbs, and simple nutrition suggestions, Dr. Su completely cleared my skin, doing what my dermatologist, allergist, naturopath, and other acupuncturists could not. Dr. Su is friendly and gentle, and his advice is easy to follow. HIs office staff is empathetic and helpful. I'm beyond grateful.
-- EG, from Seattle, WA.
Rosacea
I have battled rosea for many years (for those not in the know, rosea is a face skin issue where your face gets very red and can have break-outs). My primary care physician and dermatologists were nice but they kept putting me on antibiotics and a skin ointment which were hard on the stomach and drying to the skin respectively. I was then recommended to Dr. Su. Within several weeks, my rosea was gone. Between the acupuncture, herbs and tea I felt like a miracle happened. Now, whenever my rosea flares up (which it always seems to do before big special events) I go see Dr. Su. My skin calms down and my complexion looks great after 1 or 2 treatments. Thank you Dr. Su!!
-- Dena, from Seattle, WA.
Eczema and psoriasis
I have been seeing Dr. Su for almost three weeks now for my eczema and psoriasis. At first, I was reluctant to seek acupuncture, because I am deathly afraid of needles and none of my medical doctors had ever recommended it for my skin. Now, after only three weeks under his care, and my eczema and psoriasis are almost cured, I regret not seeing him years ago. I've had eczema and psoriasis for over a decade and my conditions were getting worse every year. By the time I saw Dr. Su, I had seen 2 dermatologists at NW Skin Specialists, and over the course of the past 5 years, I'd been prescribed tetracycline, doxycycline, minocycline, oral steroids, stronger and stronger cortisone ointments, Protopic, Dovonex, Elidel, Clobetasol, and a gazillion other ointments, to the point where my skin was constantly going through vicious cycles of stronger steroids and escalating steroid withdrawal symptoms. The constant itching disrupted every aspect of my life. I couldn't sleep, exercise (sweating made the itching worse), concentrate at work, wear my hair down, wear any wool, etc. For 24 hours a day, I was constantly itching. It was only a matter of degree and whether I could resist the scratching. Desperate for any relief that did not involve steroids or antibiotics, I did what everyone does - I did my own research on the internet for alternative medical treatment for eczema and found Dr. Su's website. At first when I read the testimonials from his other patients, I didn't believe it - patients reported dramatic results or actually being cured within 2 weeks. I was always told by my dermatologists that eczema and psoriasis has no cure. But given the short time commitment and relatively low cost (2 weeks of acupuncture and herbs vs. thousands of dollars in dermatologist appointments and prescriptions), I decided to give Dr. Su a try and overcame my phobia to needles. I am now about three weeks under Dr. Su's care and my skin is almost cured. No more rashes, bumpy skin, broken skin, scales, itching, and scratching! It is truly a miracle, and I am so grateful to have found him. Before Dr. Su, I was told by all my medical doctors that I would have to live with the ups and downs of eczema and psoriasis for the rest of my life. For 10 years, I believed them and did not look for alternative therapies and treatments. Thank goodness for the internet.
-- -Angela, from Seattle, WA.
Eczema, other skin conditions
Eczema was an unpleasant and seemingly incurable part of my life for more than 30 years before it finally become debilitating. I was very irritable, wearing clothes became painful, and I couldn't even lift up my arms without causing cracking and bleeding. Before meeting Dr. Su, all of the doctors I had seen generally only offer steroids to treat the eczema symptoms, Dr. Su helped identify and treat the cause of the eczema. With Dr. Su's help, I've been Eczema-free for the first time in my life (three years and running) .
-- Brian P., from Seattle, WA
Over the past 12 years I have been dealing with chronic and often severe skin ailments of several different kinds over six areas of my body. I sought out allopathic medicine to no avail, as well as many modalities of natural and herbal therapies, and acupuncture with no lasting results. After just three treatments of acupuncture and Chinese herbs with Dr. Su, my skin conditions improved dramatically. Now after four months under his care, my skin has returned to normal, there has been no recurrence of symptoms, and I am again able to perform my regular daily activities. Prior to his treatment, I thought I would never find relief. Thank you, Dr. Su, for sharing your knowledge and experience in helping me with my skin issues. I am most grateful.
-- Lynn B., from Seattle, WA.
I came to see Dr. Su for a very severe itchy skin rash that I had for almost a year. I tried other treatment before finding Dr. Su. I couldn't sleep; my skin hurt and itched so much. The acupuncture treatments cleared up my skin, which is no longer red and raw from scratching. It took a few months, my skin improving the whole time. Now my skin is looking good and feeling good. Dr. Su is the most gentle acupuncturist I have experienced. He also educated me about the dietary causes of my rash and taught me how to keep my system in better health. I had some other body work this year and the practitioner commented that my body seemed clean from inside out. The acupuncture and herbs worked! I love acupuncture! Thank you, Dr. Su.
-- Susan C.T. from Camano Island, WA.
In spring of 1996 I met Dr. Yiwen Su for a first visit in his clinic in Ramat-Aviv, Tel-Aiv, Israel. The reason for visiting him was my skin conditions. I have been suffering from psoriasis for over 20 years. Before I visited Dr. Su, I had been seeking help in every major hospital in Israel and was treated by leading Israeli Dermatologists. Yet they could offer very little to my condition, as the etiology of this disease is still unclear. In the spring of 1996 my skin condition was seriously aggravated. I could hardly sleep or work. Fortunately, Dr. Su was visiting Israel at that time. Through a friend I heard that Dr. Su had much success in treatment of skin diseases with Chinese Herbs. In less than two weeks miracle happened. My extremely red, scaly and itching skin that covered most of my trunk got immensely better and continued to improve. After a few more weeks' of a milder Chinese herbal treatment also prescribed by Dr. Su, my decades-old skin disease was almost gone! I was totally amazed! Dr. Su's vast knowledge both in Western medicine and Chinese Medicine seems to have contributed greatly to his special healing skills.
-- Haim B.S. from Israel.
Pain relief
I experienced impressive results with a significant decrease in pain from post-herpetic neuropathy. The acupuncture treatments were effective in reducing pain where previous medicine was unhelpful. In addition, I was very pleased with the professionalism and the atmosphere of the clinic.
--Scott E. Ph.D., from Seattle.
I have had a 10 year history of hip and joint pain. Traditional arthritis medicines gave me limit to no relief. After several visits to Dr. Su, my hip & joint pain is all but gone. Acupuncture and Chinese herbal treatment has brought back my energy & movement!
-- Sandy F. from Seattle, WA.
Autoimmune Disorder
Five years ago, I was diagnosed as having a potentially fatal autoimmune skin disorder in which blisters form all over the body and ofen will not heal. My dermatologist prescribed a series of prednisone treatments. Prednisone is a steroids which is know to attack bones and organs of the body as well as a reduce disease. I refused the treatment and undertook herbal and acupuncture treatments with Dr. Su who was recommend to me as a superior practitioner of Ancient Chinese Medicine.
After five years of treatment, my dermatologist pronounced me apparently completely free of the disease. He declared that I am the only patient of his who recovered from this disease without the prednisone treatment.
I can recommend Dr. Su without reservation as a highly qualified and very careful practitioner of acupuncture and herbal medicine and I experienced no discomfort during the five years of treatment.
-- Nelson from Tacoma, WA
Adrenal Exhaustion
Dr. Su changed my life. With his expert knowledge of acupuncture and my commitment to his suggested lifestyle changes, I have been given a great gift. My adrenal exhaustion seems to have disappeared and I have a re-invigorated zest for life. My eternal thanks to the knowledgeable Dr. Su.
-- Elise from Seattle
---
Dr. Jin Patient Testimonials:
Women's Health
I had encountered Dr. Jin many years ago when taking a friend to her office. I and other family members have seen her for various health issues, from menstrual to fertility to perimenopause as well as leukemia. She has been an incredible healer for my family. Additionally I have sent many of my clients with women's health care issues to her office. Especially for regulating hormones and fertility. I have also sent women and men for help with digestion, pain, stress and mental health needs. She has always been soothing and straightforward, a vital part of health maintenance and self-regulation.
-- CC, from Seattle, WA.
Stress Management
Dr. Jin is knowledgeable, kind, wise, and very skilled at her craft. I saw her during a period of a lot of stress and found her presence and dedication to healing very soothing. She helped get my body out of fight or flight mode and also helped alleviate shoulder pain I'd been having. She also was willing to advocate on my behalf to my insurance company. I was really grateful for the experience I had here. Her assistant was also very accommodating of my scheduling needs.
-- AH, from Seattle, WA.
Pregnancy Cares
I worked with Dr. Jin for about a year to assist me in my recovery from a series of first-semester miscarriages and long-standing hypertension. Dr. Jin treated me with herbs and acupuncture to complement the Western medical treatment I was receiving, and I am now 6 months pregnant. I have found Dr. Jin to be an empathetic and very capable physician, very knowledgeable in both Chinese and Western medicine. I am very grateful for the way in which she has enabled me to blend the best of Eastern and Western medicine in my health care.
-- Ambika, from Seattle, WA.
Promote Lactation
It has been a wonderful experience working with Dr. Jin. I had all but lost my breast milk when my son was only 4 month old. I had tried everything possible to restore my milk without success. After just a week of acupuncture and herbs from Dr. Jin, my milk returned to a sustainable level and with ongoing treatments I have been able to continue breast feeding for several months.
-- Kimberlys, from Seattle, WA.
Back Pain
I have had increasing back pain for the last 10 years. Li Jin's treatments have cured me of this back pain so that I now enjoy gardening and golfing much more. Driving long distances in a car is also easier. Other treatments I have tried in the past have not been as successful.
-- Kathryn, from Seattle, WA
Migraine
I've gone to this clinic for a couple of years and found it very helpful. Their inexpensive herb mixture actually made me feel better in minutes so that I could keep a flight I was close to missing! Dr. Jin's treatments have helped me a great deal. Acupuncture is subtle, and for me a mystery, but one treatment stopped a raging migraine; one herb stopped a nasty cold onset, and in general I feel a lot better after only a few treatments.
-- Daria, from Seattle, WA
Neck pain and anxiety
This place is fantastic! I've suffered from neck pain and anxiety for the past 8 years, and tried many different treatments. A good friend's referral lead me here, and couldn't be happier. My neck pain and anxiety level have both decreased significantly. Both Su and Jin are friendly, and take the time to get to know you and describe the treatments.
-- Travis, from Seattle, WA
Knee pain, high blood pressure and more
I find Dr Jin's acupuncture services, to be the best I have ever encountered. I tried acupuncture with 3 other doctors, including John Bastyr Naturopathic College Staff, and it wasn't helpful or was even painful. Often the doctors seemed unable to articulate how Chinese medicine works. After having high blood pressure 7 years ago, a friend AND a doctor recommended Dr. Li Jin for acupuncture. What a good experience I have had! Not only did my blood pressure go down, but she would, at the same visit, work on my long suffering arthritic knee pain. She is so thoughtful, respectful, and a great listener with an amazing bedside manner. She always explains the how and why of what she's doing, and I have learned many things about Chinese medicine, including about eating more correctly to keep me healthy. Occasionally I would buy their inexpensive herbs (compared to other alternative practitioners), but usually she gave advice that involved a lifestyle change. Additionally, it gives me so much security and confidence, knowing the training that both Dr. Jin and Dr. Su have; they were schooled and trained in China for several years, then worked in Israel and the U.S. I feel so honored and lucky to have discovered them. Even though I healed enough not to go anymore, I've recommended family, friends, and even strangers to go to her, because her care was so successful for me. They went to her, experienced the same high level of care and then recommended her to others. Although I moved 30 miles north of the new clinic, This past year I returned because I was in a car accident, with knee injuries and a concussion. She has been the most useful healer of all the necessary doctors I am seeing! My MD, knows of her skills and reputation, and is delighted with how she has participated in my continued healing. I travel weekly by bus, in order to see her. Now for sure, they deserve 5 stars
-- Robin, from Everett, WA
---
More Patient Testimonials:
Migraines
After having severe migraines for the last 3 years, my wife suggested me to try Acupuncture, with the help of Dr. Su , I've not had a migraine for over a month now. Thank you Dr. Su for everything that you have done for me & my wife.
-- Craig C., from Seattle, WA.
Cancer
I had used homeopathy, enzyme therapy and western herbs in my treatment for ductal breast carcinoma. After much time and money, the results were minimal. My treatment here has significantly reduced my breast cancer markers in a matter of weeks! The underlying weakness of internal organs is improving to prevent another occurrence. My body is stronger, my spirit is brighter. I feel blessed to be involved with these people and their knowledge.
-- Dr. Suzanne H. from Everett, WA.
Sleep Disorders
I've always been a skeptic regarding Eastern medicine in general and acupuncture in particular. After struggling with sleep disorders for a year and not wanting to use sleeping pills, my wife convinced me to give Dr. Su a try. I don't really get to know how it all works but I'm now sleeping 8 hours a night and waking up refreshed. I'm a believer now. Thanks Dr. Su!!
-- Joey from Seattle
I have been having problems with my sleep for 8 years. Prescription pills wouldn't work any more. I tried acupuncture with Dr. Su as my last options-The treatment worked from the very first session and I have been sleeping since then. I am very grateful to the doctor. He is nice and caring. Thank you!
-- Laura from Seattle
Chronic Joints Pain
I am extremely grateful for the presence of Drs. Su and Jin in the community of Ballard. I have found wonderful relief from the acupuncture treatments I have received for severe pain in my right hip and knee-after only a few weeks. I have chronic bilaterally lymphedema which has kept me from approaching the treatment in the past, but Dr. Su has carefully administered treatment and I am thrilled with the results.
-- Judith from Seattle
Asthma, Sinusitis
I have had intermittent asthma, sinusitis and eczema over the last 3 years, most recently I experienced severe asthma, sinusitis, eczema which was not responsive to steroids or antibiotics. I have now been coming to Dr. Su for acupuncture for 6 weeks; asthma is improved, eczema is improved as well as the sinusitis. I am so glad to be feeling better!
-- Pat L., from Seattle, WA.
Pediatrics
Dr. Su is amazing! No matter what problems my son encountered, Dr. Su always helped! Whether when my son had a cough or chronic food intolerance, he got it done in one visit!
-- David P. Ph.D., from Portland, OR.
Vertigo
I have suffered intermittently from vertigo associated with Meniere's syndrome for the last 20 years. When it returned this year, I decided to try Acupuncture and Traditional Oriental Medicine to treat it and went to the Su & Jin Family Clinic. For the first time since I was a teenager, I have found a treatment which controls the vertigo and ringing in the ears associated with Menier's. The treatment I have received from the Su & Jin family Clinic has been superlative in every way. I have found all the staff at the clinic to be knowledgeable, gentle and professional in the course of my treatment there. In addition to helping my vertigo-my allergies and eczema have also greatly improved as a result of my treatment. Acupuncture and Oriental Medicine have provided me relief for a condition that has no conventional treatment beyond seasickness drugs. Finally I feel confident with treatment and lifestyle changes I can be rid of this debilitating condition. I have recommended the Su & Jin family Clinic to my friends and to anyone looking for excellent Traditional Oriental Medicine and Acupuncture.
-- India K.A.C., from Seattle, WA.
Labor Induction
During my pregnancy, Dr. Jin helped me improve my energy, appetite and overall health. But more importantly, after her last "induction" treatment, I gave birth to a very healthy eight and half pound boy in four hours without an epideral. Thanks, Dr. Jin!
-- Jill, from Seattle, WA.
Depression, Migraines and more
After a local acupuncture student clinic closed I had the opportunity to continue treatment with one of the school's well regarded teachers, Dr. Jin. Under her and Dr. Su's care my depression, migraines and frequent strep throat have gone. Any flare ups of these lifelong ailments are immediately treated successfully using their varied acupuncture methods or herbs. I trust their judgment completely because I have experienced immediate relief under their care. A particular vivid example was the time I stumbled into their office, nauseated and bleary-eyed with an intense migraine. One hour later I left, pain free and smiling. At other times when my depression began to overwhelm me, Dr. Jin gave me treatments to restore my energy and sense of well being.I am so thankful to have these two wonderful practitioners in my life and take every opportunity to refer them to anyone who needs sensitive, expert care.
-- Laura, from Seattle, WA.